Services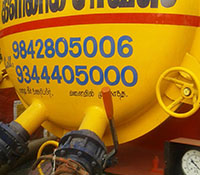 At K.G Air Septic Tank cleaning services we ensure a team to work around your needs, re-scheduling at short notice, meeting your expectations. With our Experience, Flexibility and Hardworking crew you can rely on K.G Cleaning Service to provide the deepest clean.
Our sewer and drain cleaning crews will clear any wastage. We offer very cost effective solutions for your Drain Cleaning, Sewage Spills and Septic Tank Cleaning.
With Air Compressor Lorry we clean sewage and sludge completely in a hygienic way for Houses, Hotels, Lodges, Marriage Halls, Schools, Colleges, Dyeing Units, Industries, etc. in Salem, Rasipuram, Sankagiri, Attur, Namakkal, Mettur, etc.
We assure of our prompt and best service at all times. When Safety, Time and Cost are high priority, K.G Cleaning Service offers the latest in effective cleaning solutions.
Special Features

No.1 Air Septic Tank Lorry in Salem which has the capacity of 4000, 6000, 8000 Ltr

24 Hrs Service

Less time (10 mts to 15 mts for 1 load)

Affordable Price

100% hygienic cleaning

Even we clean the tank which is 180 feet away from your house by parking our vehicle in your front gate.

Skilled Labors

Even one drop of water doesn't leak.